The story of my business
Meetings with humor: How Not to take work seriously.
Have you laughed yet today?
My name is Debbie Iancu Haddad (34), I'm a mother of two darling children, a phd student at BGU and I am a lecturer on humor and a laugh yoga instructor.
I was born in Israel to a British mother & Romanian father who met in the immigration center (mercaz klitah) in Beer-Sheva. When I was 10 months old the family returned to England for six years, and re-emigrated in 1981.
Growing up bilingual in Israel was a huge help and has seen me through a BA, an MA and a third of a Phd. Even though I take studying seriously (almost no one who knows me would say too seriously) - my research interests focus on humor. My MA was an exploration of Diet humor and my doctorate research is about humor as a communication tool used by managers and head masters. If that isn't enough I'm also a laugh yoga instructor. You may ask "don't I take anything seriously?" Well the answer is: "No. But thank you for asking".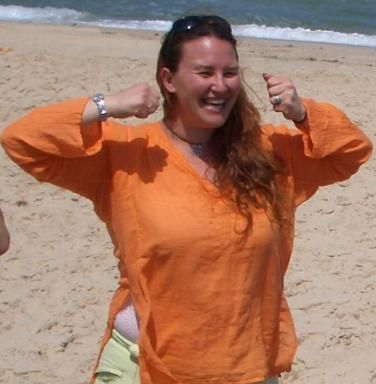 I opened my business in 2006 when I was unemployed following the birth of my 2 nd child. I had just been accepted into the BGU department of education as a phd student but was not granted a scholarship because my grade point average was 2.5 points below the cutoff (some would call that funny…). I needed to find work that would on the one hand keep the mortgage payments going out and on the other hand give me enough time to study. My friends in the department used to joke that we would never make any money from anthropology… but there was one guy who gave lectures to schools on his MA subject. Since my MA subject was Diet Humor, and since almost everyone diets I thought there might be some people interested.
Now Dieting is a heavy issue, not to be taken lightly... (Pun intended). Most of us diet religiously - we eat what we want and pray that we won't gain weight. In my lecture I tell my own story - In my life I've gained and lost hundreds of pounds (by all rights I should be hanging from a charm bracelet), I've been a member of weight watchers going on five years and worked there for the past three years. I wrote my thesis on Diet humor used by participants in a local Weight Watchers ® group. My secret to successful dieting - eating chocolate! ... And no, I'm not joking.
I give funny examples, diet humor and actual weight loss tips based on my research, my experience, and my training as a public health instructor. Let's face it - I've lost 50 pounds in the past three years - I must know something. So I started out with teaching people how to eat your cake and leave the calories on the plate.
At first I thought I would give workshops to private customers, especially women on maternity leave, but soon I realized that the real demand for workshops and lectures was by companies looking for fun activities and enriching lectures for their employees. After a while I started offering more general lectures on "A humorous approach to life" and "Humor in the workplace". At first I got work by word of mouth and walk of foot (going in places and telling them what I did). I lectured for free, anywhere that would take me and gradually started getting more experience. I also took a business class for running small businesses at BGU business school. For the firs six months I made almost no money – but I learned a lot and had a good time. I felt better about myself – it's a really different feeling – "I'm not unemployed – I'm self employed" (though still penniless). A significant turning point in my career was learning to be a laugh yoga instructor. What can I say - I believe in laughing...
What is Laughter Yoga?
The unique concept of Laughter Yoga and Laughter Club is the brain child of Dr. Madan Kataria, a physician from Mumbai, India. Any one can laugh in a group for 15-20 minutes without depending upon great sense of humor, jokes or comedy. Laughter Yoga combines simple laughter exercises (simulated laughter) and gentle yoga breathing, which turns into real laughter when practiced in a group. At present there are more than 5000 laughter clubs world wide.
Laugh yoga is up and coming in Israel. Although it sounds kind of strange, what it boils down to is a really fun time.
After receiving my certificate I opened a free laughter club at Ben-Gurion University. I was really nervous; I was worried no one would come. At my first workshop at the university there were over 60 people. There was no room to move, but we laughed long and loud and people had a great time. Soon I started to get calls from people who had participated in my workshop inviting me to their workplaces, parties and other activities. People saw the ad about the group in the student newsletter (which goes out to the 17,000 students at BGU and is great free advertising). I created a free web site and got flyers, and requests started coming in.
In the past three years I've given over 300 laugh sessions and lectures to a wide variety of clients – I've worked with hospitals, high-tech companies, government agencies and private groups. I also volunteer workshops with senior citizens, special interest groups (such as single parents, the bereaved of road accidents, mental health projects and youth workers).
Based on clients' requests I gradually expanded my selection of lectures. I have a lecture for teachers on how to use humor in their classroom; I have a lecture for businesses on the benefits of humor at work. I also worked in a workshop with my greatest love – chocolate. A combination of my two favorite things: chocolate and laughing. A hilarious chocolate party that begins with understanding why chocolate is perfect for losing weight (your whole daily calories in one handy bar), continues with funny games and an analysis of the participants' chocolate personality. We have chocolate fondue and top off the evening with a competition of sculpting with chocolate dough. (Yes, we also eat the chocolate...).
I love my work because I get to make people happy and laugh. The best moment in every meeting is seeing frozen expressions thaw and a smile beginning to break through. I also get to see people at happy times. Brides before their weddings (getting in some last chocolate before taking their vows) uptight office workers at their company party, even doctors (I gave a workshop for the staff of the pathological unit in Soroka hospital – talk about stiffs… well I couldn't).
My work schedule is very crazy. I'm available 24/7. I've given a session that started at midnight, some at 8 am and every hour in between. I go wherever I'm invited. Only yesterday I gave a session in the middle of the dessert by the Dead Sea. I live in the Negev and love it here, but about 75% of my business comes from other areas of the country. In the past month I've given workshops in Faran in the Arava, Kiryat Biyalik north of Haifa, at the Dead Sea, in Tel Aviv and at my daughter's kindergarten. Sometimes these trips are day after day. There was one day I gave two chocolate parties, one starting at six pm on the beach in Caesarea, the next starting nine thirty pm in Mishmeret (about half an hour south of there). The upside to all this traveling is that I only work 6-7 days a month, an hour or two at a time (not counting the traveling). Which means that most mornings I'm free. Of course I have to return calls to clients, check my website etc, but I can always find time for a cup of coffee with friends or a trip to the mall.
The only thing I hate is the payment system in Israel. Working with government and education agencies mean that I get paid current date + 30, 60, or 90 days, that means that I may have to wait three months for the check to come. Sometimes three months go by and no money comes. Then I call up and discover there was a snag in the bureaucracy, some document got misplaced and that needs to be sent again, and then another wait. There is one lecture I gave last march that I still haven't been paid for - going on seven months. It really takes all my sense of humor not to go ballistic over the phone and start killing people (which is bad for business).
There are people who call up and want to book a workshop today, tomorrow or in two days time. On the other hand there are those who schedule months in advance (these are usually the ones with the most bureaucracy – there was one company where I spoke to at least six different people, who each handled one aspect of the three hour meeting – so I spent at least six hours on the phone).
All in all I can't complain, I make a good living doing something I enjoy that pays well and makes other people happy.
Below is a list of the lectures and workshops I give in order to spread humor in the world.I also give lectures and laugh yoga sessions in English. My clients choose from one of my six current subjects or talk to me about creating a special humor lecture to suit their needs.
**Debbie Iancu-Haddad Phd student - Dep. of education Ben-Gurion University. Humor researcher - Humor in organizations and education.
**MA in Anthropology - Ben-Gurion University. MA in diet humor and women's studies.
**BA in Communications and sociology-Anthropology - Hebrew University of Jerusalem.
**Public Health instructor - Ben-Gurion University, Health Sciences Dep.
My Subjects:
Humor in teaching.
Humor inspires students to learn. It reduces teacher burnout and stress. Humor generates camaraderie in the classroom. Students develop a group identity by laughing together. Their attention is diverted from the heavy task of "learning" and they focus on enjoying themselves while supporting each other. Students who laugh during class quickly become committed to paying attention. Once they are relaxed and invested in the learning process you can take them anywhere you want to go. In my lecture I talk about the advantages and pitfalls of humor in teaching... and yes - my lecture is also fun and funny. (This lecture is based on the course I will be giving at Ben Gurion University - Spring Semester 2007)
Humor at Work.
Do you realize that you spend more hours at work every day than you do with your significant other, your kids or anyone else for that matter? So, if you spend all those hours with people at work, wouldn't you like it to be a more fun, uplifting , satisfying experience? Remember the saying, "Laugh and the world laughs with you, cry and you cry alone?" Are you spending your day laughing or are you spending your day crying?
It might be hard to believe but employees who spend even a small part of their day laughing will function at peak performance. Happy employees are more productive employees, and a workplace that encourages humor instead of suppresses it encourages employee loyalty, commitment and involvement. Learn how to incorporate humor into your organization, and start laughing today!
Introduce humor into your life.
There are days when you really need a good laugh. Is today one of them?
Come learn how to see a lighter side of life, even when problems are weighing down on you. People who use their sense of humor to brighten up their day ease their own tension and the tension around them. Laughing improves your health and your wealth. Studies show that people who laugh daily are healthier and more popular. They are also promoted faster.
We are all born with a sense of humor - but some of us never use it. The good news is - you can learn to lighten up and be funnier, all it takes is practice and a big smile. So come and get in touch with your lighter side - yes, everyone has one.. even you!
And also Diet humor, laugh yoga and chocolate and laughter parties